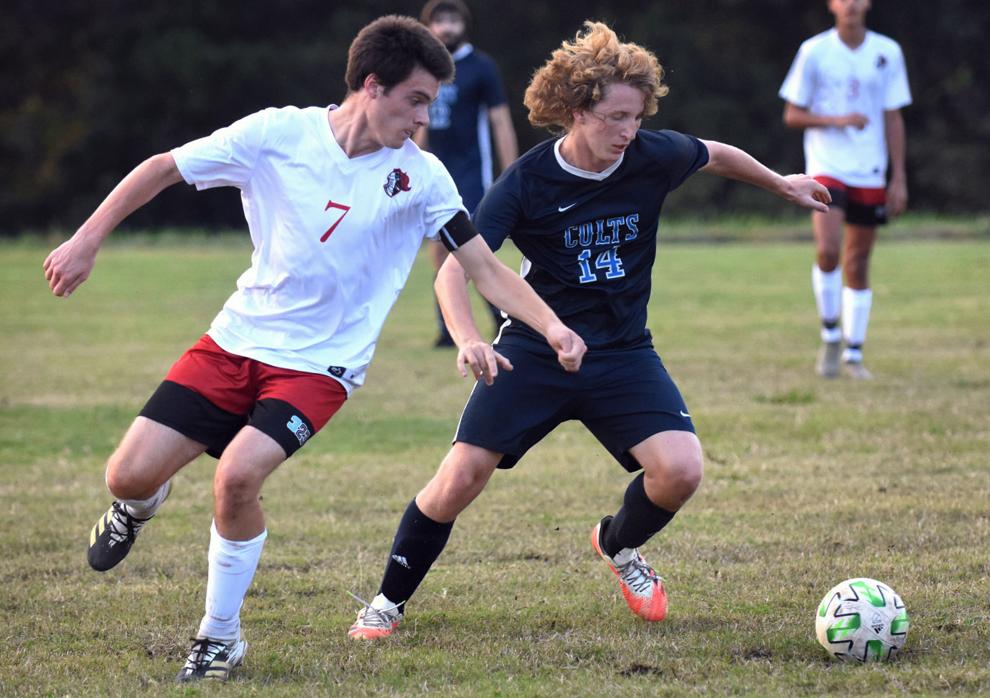 HENDERSON — Crossroads Christian's men's soccer team looked to cap off the regular season on a positive note Thursday with a win on senior night against Southside Christian, who had narrowly edged CCS 6-5 to begin the year on Sept. 15.
But the chance for a victory slipped away from the Colts in the final minutes, which left head coach Holden Coghill at a loss for words as he attempted to console his players in the post-game huddle following the 2-1 loss.
"The other team wanted it more than us," Coghill said. "Soccer is a game of parity with no timeouts, and it all comes down to stats and things that don't show up on the stats. I didn't know what to say to my guys because they didn't have an overall lack of effort. Southside Christian is a good team."
Both teams showcased their strengths on defense and goalkeeping during most of the first half to keep the score at 0-0, until Southside Christian got around the Crossroads defense with 2:27 left to take the lead at the intermission.
During halftime, a special ceremony was held to commemorate the senior class of Noah Puckett, Isaac Corrigan, Asher Fulk, Colby Taylor, Jesse Leonard and Noah Brantley.
Coghill wished that he had more time with his six seniors to pass on more of his knowledge about soccer, but he praised the determination they displayed in every practice and game and is confident all of them will find success regardless of their career avenue.
"I told the huddle that [Brantley, Fulk, Leonard and Corrigan] improved tremendously during the two years I had them and I'm proud to see them put in the time and effort to really become students of the game," Coghill said. "Noah and Colby only played this year for me and I really wish I could have coached them two years as well, but they have been great additions for us in the locker room and out on the field."
Senior leadership proved to be crucial for CCS in the second half as they increased their aggression on Southside Christian's side of the field. But a freshman, Noah Newbern, wound up becoming the one to even the score at 1-1 following an excellent corner kick from junior Ryan Adcock.
Southside Christian stayed alert on defense as Adcock, freshman Will Alston and the rest of the CCS roster did everything they could to find a weakness in their opponent's defense, all while the game clock continued to wind down.
After withstanding shot after shot, Southside Christian finally went on the offensive and made its way towards Crossroads territory, where they proceeded to score their second goal of the game after Edwards was unable to corral a header.
The Colts tried to respond with only a handful of minutes remaining, but they could not find the look they were looking for and had to settle for a 2-1 loss, dropping their record to 2-6 on the year.
Coghill said that some of the struggles that have plagued the team during the shortened 2020 campaign come down to its overall lack of experience despite having six seniors, but he knows that the program is talented enough to win games and expects those issues to be resolved in due time.
"It came down to our failure to put out little fires," Coghill said. "When you can't do that, the whole apartment building burns down. We created more chances in that game and if you didn't look at the scoreboard, you would have thought we were the better team. For whatever reason, we can't collectively assess some of these dangers in key situations."
Crossroads now has to wait to see where it will be placed in the NCISAA 1A playoffs on Sunday evening, with its first game taking place on either Tuesday or Thursday.